Vignerons coopérateurs
DEPUIS 1924
Vignerons coopérateurs
DEPUIS 1924
Vignerons coopérateurs
DEPUIS 1924
Vignerons coopérateurs
DEPUIS 1924
Wine shop - opening hours
From May to September: from Monday to Saturday 9am-1am / 2pm-7pm, on Sundays  9am-1pm.
From October to April: from Monday to Saturday 9am-12.30pm / 2pm-6.30pm, closed on Saundays.
Closed on May, 1st, December, 25 and January, 1st.
95 chemin de Saumelongue, 84110 Vaison-la-Romaine
CAVE LA ROMAINE
Cooperative winery in Southern Rhone Valley
Ideally located in the heart of Provence region, the Cave la Romaine cooperative winery was created in 1924. It's one of the very first coop winery in Vaucluse, and gathers 180 winegrowers reunited around a 1400 hectars production area, from Seguret (Vaucluse) to Buis-les-Baronnies (Drôme).
First coop winery of the area, created in 1924, the 1st name was "Vaison et Haut Comtat" winery, as a reference to the "Comtat Venaissin" to which the city was attached to until 1974. Then, it was renamed "La Romaine" in 1987.
Besides an intercommunal goal, it's quite original in the fact that it's located on to 2 different regions, Vaucluse and Drôme.
Rhone Valley is caracterized by a real diversity of terroirs, also found in our wines, which proudly reveal the multiplicity of our soils. They are at the basis of our appellations: IGP Méditerranée, AOP Ventoux, Côtes du Rhône, Côtes du Rhône Villages, AOP Gigondas.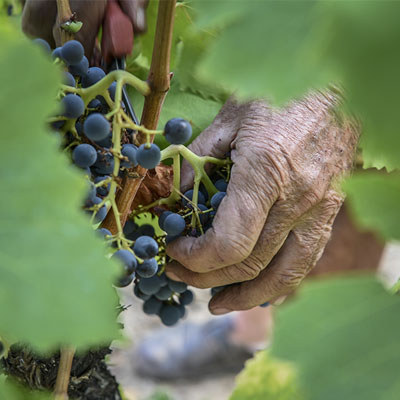 Enter to the winemaker world! Come an meet us to visit our winery, and know more about the knowledge given from generations to generations. More than a job, we'll tell you everythin about our passion.
Let be guided by our expert team so that you can experience the real life of a winemaker. Through tasting classes, guided tours or bike strolls in the vineyard, the Cave la Romaine coop winery, it's vines, terroirs and wines won't have enymore secrets to you!
Know more about the delivery
Ordering wines oline is a piece of cake! Go to the "our wines" section in the main menu up this page. You'll be redirected to the online shop. In case of any difficulties, you can call us +334-90-36-55-90 or caveauàcave-la-romaine.com
How many days to receive the order?
We generally deliver within 5 days, IN FRANCE ONLY.
Can you send wines in a foreign country?
WE DO NOT DELIVER OUTSIDE OF FRANCE. If you're looking for our wines in another country, you can send an email to Natalie : export@cave-la-romaine.com.
What do I do if something's wrong with my order (broken wines or mistake in the delivery)?
In case something is broken, you have to refuse the delivery, explaning what's wrong to the delivery person and writing it on the paper they'll present you. Then contact us so we can find a solution together!
What if I'm not home when they try to deliver?
The delivery person will try to call you first, than will leave you a note in your mailbox if they can't reach you. Without any answer from you, they'll try to deliver another time. the wines are always given directly to you against a signature.
Can I miw different wines within a case?
You can buy different cases of wines but you cannot miw several wines within a box. For example, if you want to buy red and rosé, you'll have to buy 5 reds and 6 rosés, you won't be able to buy 3 of each.
I made a mistake wile ordering, what should I do?
No worries, mistakes happen! If you realize you made a mistake after checking out, contat us as soon as possile +3344 90 36 55 90 or caveau@cave-la-romaine.com.